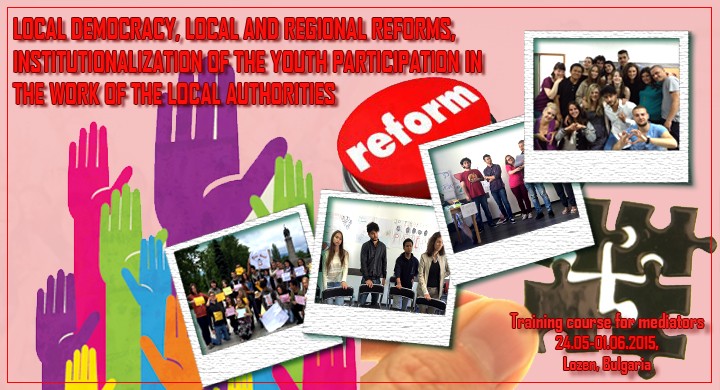 A basis mediation: The essence of the conflict, Methods for argument solving; Essence of the mediation, Phases of the mediation procedure, Roles and responsibilities in the mediation, Main communicational skills, Main mediation skills, Behaviour of the mediator.
The model describes a possible way for interaction among interested sides (youth leaders and mediators on one side; local authorities on the other) in the area of:
Local democracy, local and regional reforms, institutionalization of the youth participation in the work of the local authorities:
Local democracy: examination of various types of civil participation – elections, referendum, representation and support; survey of social needs; plans for local development; common development of projects with the participation of interested sides;
Local and regional reforms – access to information, decentralization of services and possibilities for delegation of public services – sharing of experience, recommendation to the local authorities and nongovernmental organizations in order to improve the common work in the offering of effective services in the society; discussion about the possibilities for financing and realization of common projects;
Institutionalization of the youth participation in the work of the local authorities – Examination of methods for creation of local youth structures and organization and/or participation in local consultant and social councils. Implementation of tools providing for their activity in the Regulation rules for organization and activities of the Municipal Councils. Expected rights and responsibilities on behalf of the both sides (ex. Procedure for confirming and registering of social council, procedure for interaction with the local authority, procedure for imports of materials for the social councils in the Municipal council.
The main aims of the project are associated with the widespread recognition of the value of Non-formal education and promoting active youth participation and citizenship, and in particular:
To encourage the "independent acknowledgment" of informal education through trainings on social and multicultural mediation-international acknowledgment of the competencies and acquisition of the corresponding legal capacities and qualifications;

To give the specific skills and knowledge about "civil mediation" to youth leaders and workers, working in the spheres of: local development, "good management", civil rights, partnership;

To advocate for on-going consultation mechanisms involving youth NGOs and for their inclusion in decision making processes on issues related to education, job opportunities, social responsibility and intercultural understanding activities;

To develop active collaboration among local NGOs, LAs, EU institutions through the creation of sustainable networks of youth mediators for exchange of good practices and ideas.